Single Agent
Theme Installation
Assuming you have the full package (rh-main-package.zip) of RealHomes theme. Extract it and you will have rh-main-package folder. Open it and follow the instructions below.
Upload Theme's Zip & Activate
Go to Appearance → Themes section and click Add New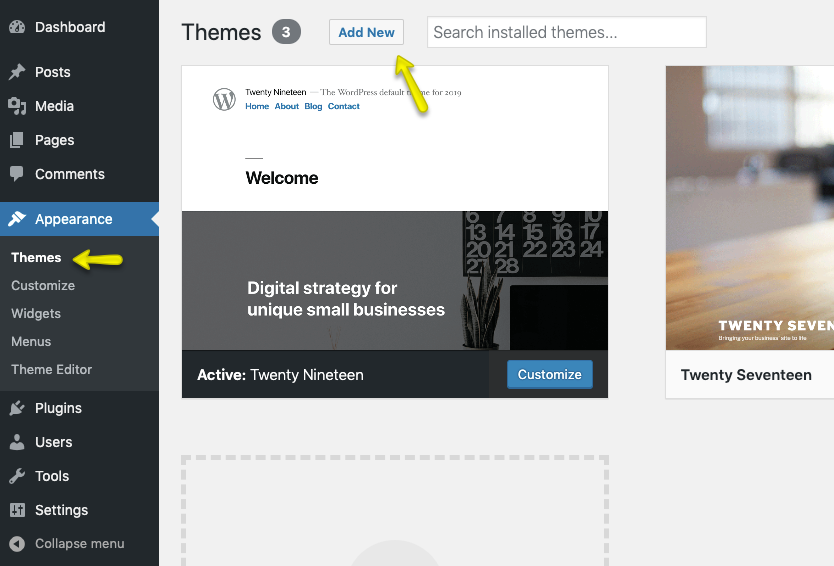 Click Upload Theme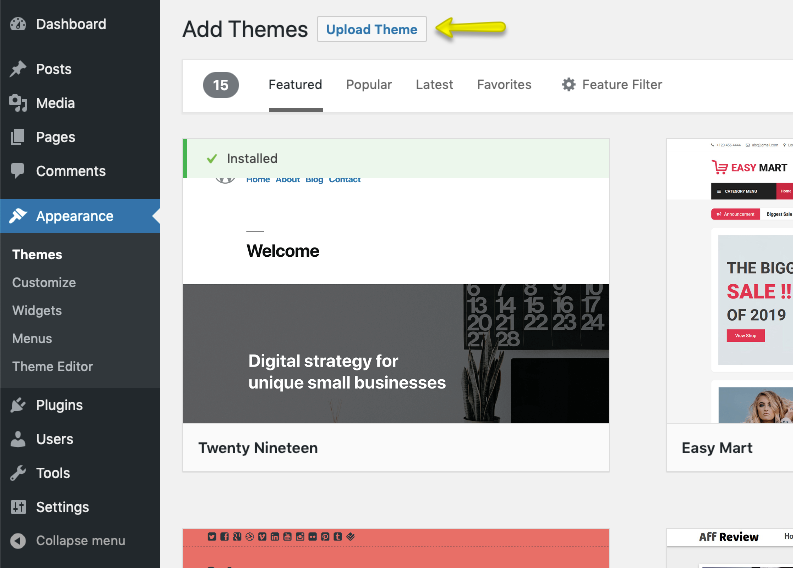 Choose the realhomes.zip file and press Install Now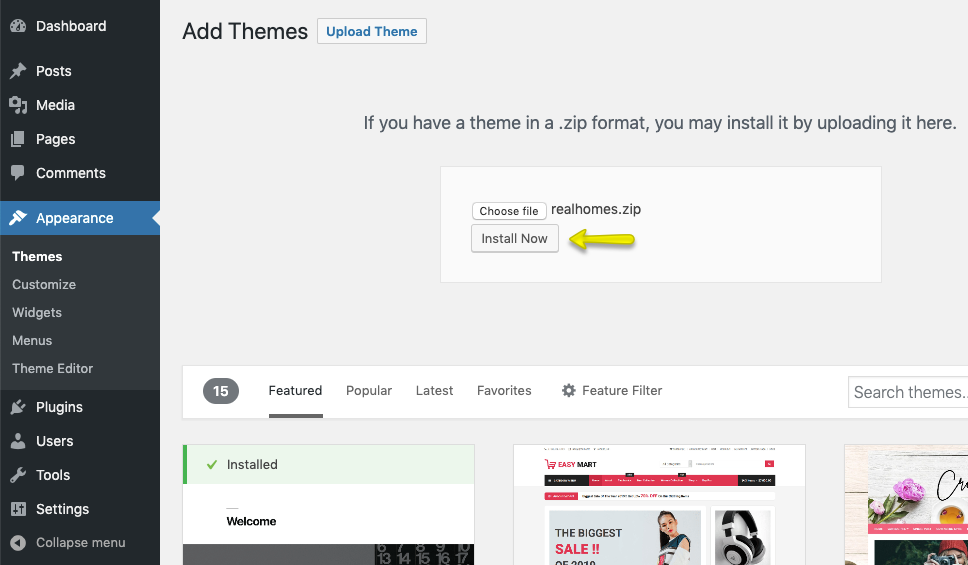 Once the theme is uploaded then you need to activate it.
Activate Your License
Also, a notice will be displayed at the top of welcome page asking you to Enter Item Purchase Code and then click on the Verify button. RealHomes purchase verification allows you to install plugins, import demo contents and avail auto updates. For help to retrieve RealHomes purchase code you can follow our knowledge base article on How to Get Themeforest Item Purchase Code
Update Permalinks Settings
Go to Dashboard → Settings → Permalinks and choose Post name from Common Settings and save the changes, As displayed in screenshot below.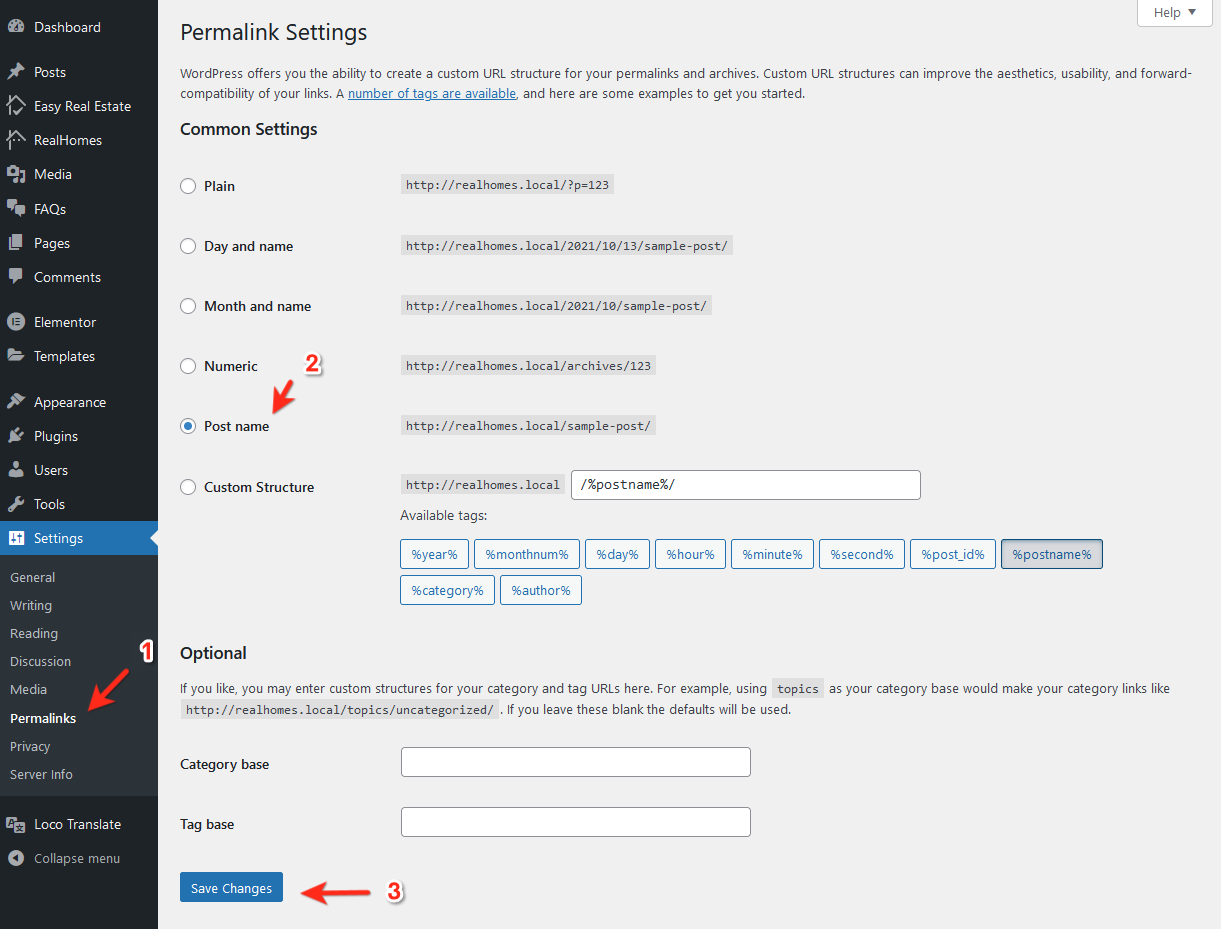 Required Plugin Installation & Activation
After RealHomes Purchase Verification, a notice will be displayed at the top asking you to install and activate the required plugins. So, go ahead and click on Begin installing plugins.

On next page you will see the list of plugins to install. Select all the plugins and click on Install and then click on Apply to install all of them at once (as shown in the screenshot below).
After all the plugins are installed click on Return to Required Plugins Installer.

Once again select all the plugins and click on Activate and then click on Apply to activate all the plugins and you are done.

The next step is navigate to "Dashboard → RealHomes → Plugins" and install and active Slider Revolution.
After activation go to "RealHomes → Customize Settings" to play with theme's settings. You can also import the demo data before changing any settings in the Customizer.

if you face any problem during upload through dashboard, please upload the theme using FTP as guided below.
Import Single Agent Demo
Navigate to Dashboard → RealHomes → Import Demo and click in the Import Demo button of Single Agent - Elementor demo.
Initial Elementor Settings
Navigate to Dashboard → Elementor → Settings and make sure Disable Default Colors and Disable Default Fonts are enabled.
In this same section, click on Styles and check the Content Width is set to 1240.
Common Installation Issues
All of the following issues/errors are either user-created or server-side problems.
If you face any other problem that is not listed above then create a ticket at our support platform by signing up and we will assist you as soon as possible.