RealHomes is an ultimate WordPress theme as per the reviews and customer feedback received till the first quarter of 2020. Let's take a look at how we managed to win buyer's trust?
Real Estate is one of the fastest growing industries and widely searched over the world wide web. Therefore customers are now interested in getting first-hand information within a few clicks because they prefer shopping while sitting at the comfort of their home.

As a Real Estate agent and dealing with buying, selling and renting of property, your top priority is to engage your customers with your inventory. Hence it is the need of the hour to digitize your Real Estate Business. This will attract more customers by generating organic leads and online referrals.

For your Real Estate Website, you require the Best Real Estate WordPress Theme which should be designed in a way to bring efficiency and automation in work performance. Above all it should be enhancing customer relationships for your business.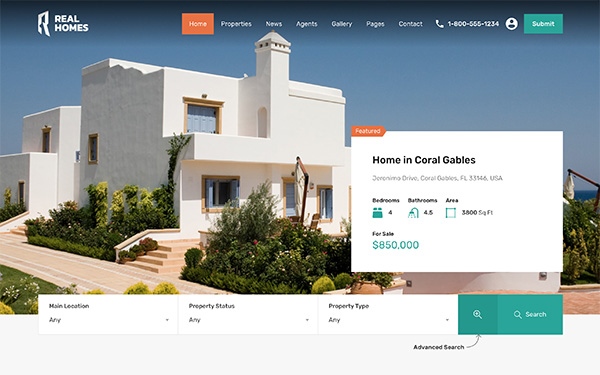 Online Businesses are experiencing exponential growth but still the commonly faced problems by Online Real Estate Agents are:

1- Less Inventory of Sellers and Buyers
2- Hurdles in Adopting Latest Technology Trends
3- Client Database Cultivation (Follow Up System)
4- High-Cost Lead or Traffic Generation on Website
5- High competition due to numerous property Listing Portals

RealHomes WordPress Theme:
Salient Features
In addition to easy to install and quick to setup features, the salient features offered by RealHomes WordPress Theme for real estate agents are:

1- Numerous Templates:
RealHomes theme provides various templates to fulfill the needs of real estate agents and agencies because it is designed in a professional manner

2- Advanced Search:
Real Homes includes an advanced real estate search that is fully customizable and can be used for various scenarios.
3- Extensive Settings:
This theme provides an extensive set of customizer settings that will allow you to modify things around your website.

4- Live Customizer:
To help you configure and customize the theme going into code. You can customize the price format to any currency in the world. So, you can customize the URL slugs to your required ones.

5- Design Variations:
Real Homes theme includes two major design variations. You can use the classic or modern look based on your choice.

6- Google Maps:
Real Homes includes Google Maps API integration that enables you to display Google Maps with properties markers on the search results page, in addition to that properties display pages, property detail page, home page and taxonomy archive pages.

7- Members Support:
You can provide user registration, login and forgot password features on your site to let users access member-only features. Also, social login feature allows you to integrate any social network with your website for user login and registration.

8- Front End Property Submit
Real Homes provides front end property submit template and related configurations. So, you can restrict a certain level of users from accessing the administrator dashboard. You can also provide them an interface on the front end to submit properties.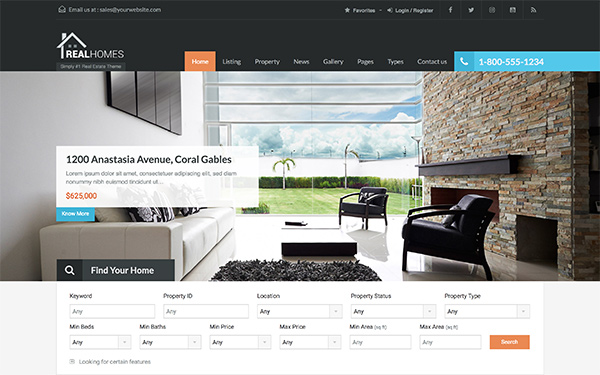 Enhanced Features
Easy to Use Meta Boxes
Additional Details
Floor Plans
Property Attachments
Similar Properties
Sub Properties
Properties Filter Settings
Favorite Properties
Compare Properties
Agents Template
Properties Gallery
Custom Widgets
Filterable FAQs Support
Social Login Using Any Social Network
Front End – My Properties
Front End – Edit Profile
Testimonials
Supported Integration with RealHomes:

Elementor
Revolution Slider
WPML Compatible
Google reCAPTCHA
IDX Support to Integrate your MLS
RealHomes WordPress Theme is the most equipped and efficiently developed real estate theme for your business. In a nutshell it was launched with an aim to facilitate the Real Estate Community.

Try RealHomes demo now!